Posted on
LIME keeps promise to Mountain View Adventist Academy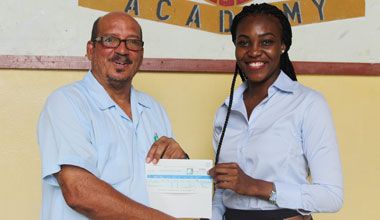 The principal of the Mountain View Adventist Academy (MVAA) Anthony Ollivierre has expressed his appreciation to telecommunications company LIME for keeping a promise made since 2014.{{more}}
Last year, when the MVAA won the 2014 Lions Club LIME Public Speaking competition, LIME promised to donate $2,500 to the school towards an identified project.
"Although our project submission was very late, LIME still honoured their commitment and for that I am grateful," Ollivierre said.
The project identified is the installation of burglar bars at strategic points throughout the school. "We have had three break-ins so far for this year, so this contribution from LIME is definitely needed to help secure the premises," said Ollivierre.
Marketing & Corporate Communications manager Nikala Williams said it is a pleasure and also an honour each time her company gets an opportunity to contribute to education in St Vincent and the Grenadines.
"The Lions Club LIME Public Speaking competition has become a noteworthy building block for secondary school students over the years. LIME commits to its continued support not only monetarily, but also by offering incentives such as a prize to the winning school and a two-year scholarship to the top three students," Williams said.
The cheque for $2,500 was handed over to Ollivierre on September 15 by LIME marketing assistant Veronique Williams.