Posted on
South Leeward doesn't want Jomo – 'Nature' Stephenson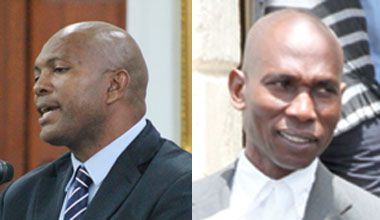 "By now, a clear message has been sent that the people of South Leeward do not want a foreigner to represent them… He is from parts unknown… when the bell rings and we go to the poll, we are going to send him back to precisely where he came from!"{{more}}
This was the emphatic assertion of the New Democratic Party (NDP) Member of Parliament for South Leeward when he addressed a political rally last Saturday at Campden Park.
Nigel 'Nature' Stephenson criticized his opponent, Unity Labour Party (ULP) candidate Jomo Thomas, insisting that he (Thomas) is an unsuitable person for the job; therefore, the majority of constituents will not vote for him.
Questioning Thomas's involvement within South Leeward, Stephenson said: "He doesn't know one thing about South Leeward, but wants to represent the people of South Leeward!"
He further explained that, in contrast, he has been actively involved in community matters from a very early age; therefore, he is well known and trusted by his constituents – who he claims are more likely to support and vote for him in the upcoming elections.
Stephenson spoke about his 12-year experience as a teacher within the constituency, as well as his involvement with youth and sporting activities, claiming that there is "no comparison" between that and Thomas's involvement.
"There is no need for Nigel Stephenson to walk around with a piece of paper to say who Nigel Stephenson is… I don't need to do that!"
Stephenson also claimed that Thomas lacks self-identity, which makes him out of touch with the needs of South Leeward constituents.
"If somebody has to come to you with a piece of paper to tell you who they are, it means that they themselves don't know precisely who they are," he lamented.
"He doesn't understand his identity; and if he doesn't understand his identity, he does not understand the dynamics of the constituency nor what the people of the constituency are going through."
Stephenson added: "What are their needs, what are their aspirations, what is the pain and the suffering that these people have been going through? He does not have that understanding because he was not cultured in this constituency!"
In addition to criticizing Thomas, Stephenson chided the Government for neglecting the South Leeward constituency, especially in terms of health care provisions. He predicted that this would have a detrimental effect on the ULP's campaign and drive voters towards the NDP.
"The New Democratic Party will create an upset in Vermont. Vermont is no longer ULP country; it is the territory of the 'Nature' boy!" (JSV)