Posted on
Leacock promises Sharpes polyclinic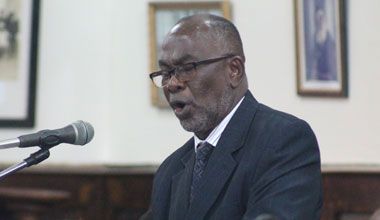 If the New Democratic Party is voted into office at the next general elections, there will be a polyclinic for Redemption Sharpes and the people of Central Kingstown, said parliamentary representative for the constituency of Central Kingstown St Clair Leacock.{{more}}
Speaking at a rally last Sunday night at the Redemption Sharpes Playing field, Leacock said that community is the only one in the country that does not have a health care facility.
"I have had preliminary words with the people who own some property down there. I didn't say it will happen today for tomorrow, but Sharpes and Central Kingstown must have its own polyclinic," Leacock said.
Once elected, he said he will seek the permission of and work with his Prime Minister and Minister of Finance, so they can source the funds to provide a proper health facility in Central Kingstown and Redemption Sharpes.
Leacock said that once every constituency develops, the whole country develops.
Leacock used that platform to highlight problems which he said are faced by people of the area who use the playing field.
"If you look at SVG today, save and except for perhaps Park Hill, where you have a lighted playing field, every constituency [has] gone backwards."
According to Leacock, in a government, when a national budget is being planned, it is not about what makes them look good, but what should be best for the people of the constituency.
The former president of the SVG Football Federation said development of this country should be about its people.
"Development is about people and whether it starts here or in Layou or in Barrouallie, or in Union Island or in Greiggs, we must develop our country in the interest of the people and not in our personal, self-interest," Leacock declared.
"So, I tell you in Sharpes, you have no choice; this is a field that has been operating for over 30 years and you don't even have a single floodlight here to get a sweat on evenings.
"Ralph, in 10 years, has gone beyond us… over in the corner there, if rain comes, the water runs through it. You can sit down or stand there. The toilet here has been not working for over a year. I beg water authority to reconnect it; they did so… Today, it is dysfunctional, because I cannot get the National Lottery and National Sports Council permission to go any further to fix that toilet," Leacock said.