Posted on
Courts donates 22 mattresses to Dominica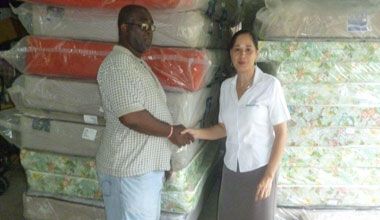 More help is on the way to storm-ravaged Dominica in the form of mattresses, donated by furniture and appliance store Courts St Vincent Limited.{{more}}
On Thursday this week, Courts commercial manager Lisa Veira presented the National Emergency Management Organization (NEMO) with 22 mattresses to be sent to the neighbouring sister country, in an effort to relieve some of the trauma caused by Tropical Storm Erika.
Erika ripped through Dominica on August 28, claiming dozens of lives and wreaking havoc, which caused hundreds of millions of dollars worth of damage in the process.
Veira said that the donation, valued at over $25,000, was a small part of what the company plans to do for those affected by the storm.
"Our thoughts and prayers go out to Dominica, who is our neighbour, and this is just one way of us showing our solidarity to them in this time of need.
"Vincentians know what it is like to suffer devastation, and Dominica was there for us during our turmoil. It is only fitting that we, as Vincentians and at Courts, look out for our neighbour, as they looked out for us."
The mattresses were handed over to NEMO warehouse manager Raymond Yorke, and will be sent to Dominica shortly. (JJ)