Posted on
Beachcombers marks 25th Anniversary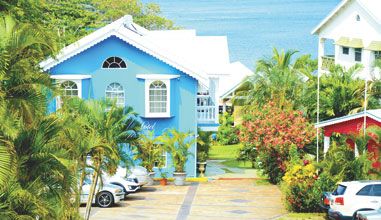 Beachcombers began as a modest six-room bed and breakfast business on Villa Beach, with a devotion to providing excellent service through a warm family oriented atmosphere. {{more}}
September 8, 1990 brought their first check-in, marking the beginning of their journey accommodating guests from around the world. It began with a quaint set-up, where the norm was for guests to receive breakfast on the patio of their room, as there was no restaurant back then.
In the early days of operation, the Gunn family, led by Richard and Flora Gunn, were the main presence on site. This allowed for a personal connection between the guests and family. It is through this connection that Beachcombers has grown to what it is today.
Development first began by adding a restaurant and bar in 1992, elevating the culinary offerings and social atmosphere of the area. Again, it was easy to find the family at Beachcombers, as they were eager to be the first tasters of new recipes – they are the ones who created the first menu. At this point, new staff were being introduced to work hand-in-hand with the owners and so began the formation of the Beachcombers team.
As the family grew larger, so did Beachcombers. With more and more modern approaches to the original family-oriented business idea, Beachcombers expanded. The antiquated buildings gave way to a new, contemporary design. Old furniture was salvaged to preserve the sense of history, ensuring they did not forget where they started. More buildings were added – a spa, meeting rooms and a laundry, providing more room to cater to a growing clientele. In 2010, the old restaurant and bar were demolished, redesigned and re-constructed in order to reflect a now more contemporary Beachcombers, as well as to accommodate the growing number of guests. In 2015, a new building was constructed, adding 16 more rooms, as well as conference and banquet rooms.
From six rooms, Beachcombers today presents 48 rooms of six different categories, catering to many different travel and comfort needs. They employ a staff of 40 throughout the different departments and operate seven days a week, without fail, to deliver excellent service. It has developed into one of the largest hotels on the island, and has come a long way from its conception. But one thing that has not changed, is that you can still find yourself being served by the owners, and having those spontaneous conversations with the family.