Posted on
Sion Hill Steel Orchestra – 20 years of training young pannists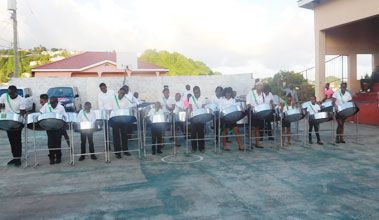 For over 20 years the Sion Hill Euphonium Steel Orchestra Inc has been training young Vincentians to play the steel pan. And, on Sunday, September 6, the 'Euphonium' held its 13th Summer School graduation ceremony.{{more}}
The programme which began in 1995, has so far seen 800 participants graduating, over 150 of whom are still with the band.
Current trainer Mikalla Knights, who is the band's vice-captain, was one of the first participants in 1995.
Parliamentary Representative for the area, Arnhim Eustace congratulated the steel orchestra for lasting 20 successful years and congratulated the graduates on successfully completing their training programme.
"I am still a little bit concerned – there is too much up and down in the numbers…today we have 25 and I still feel some more work can be done to bring the number back up," Eustace said.
Warren Knights, the band's manager explained that the Sion Hill Steel Orchestra Inc started the training programme to rebuild the organization and it is "all part of community effort to combat crime and violence, create positive alternative attitudes, opportunities for the youth of the Sion Hill community."
President of the YOLOU Pan Movement Oneka Morgan expressed her pleasure at seeing so many young people taking an interest in learning to play the pan.
She said that at the recent International Panorama and Conference in Trinidad and Tobago, they were awakened to the many uses of the pan in combating crime, similar to the Pan Against Crime initiative which the Government here has initiated and in music therapy etc. Morgan said the YOULOU Pan Movement will now be looking at replicating some of these initiatives locally.
David "Darkie" Williams expressed his displeasure about non-Trinidadians holding a patent for two of the steel band instruments and used the opportunity to encourage the graduates to take pride in the pan.
Senator Luke Browne, who also attended the graduation ceremony, expressed pride in the longevity of Sion Hill Euphonium Steel Orchestra and its success in the community.
"There are many functions that pan is allowing us to do, including forging lifelong friendships," the Senator said.
Corey Garrett, representative from FLOW, was also in attendance at the graduation ceremony.