Posted on
Redirected Yambou River now flowing freely again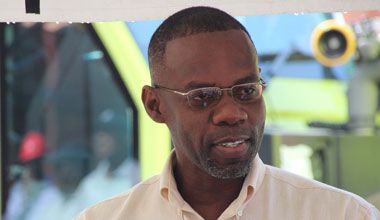 The Yambou river now has a new course in the area of the Argyle International Airport. Chief executive officer of the International Airport Development Corporation (IADC) Dr Rudy Matthias said as construction work continues, they have redirected the Yambou river.{{more}}
Last week Thursday, the re-routed river was allowed to flow, for the first time, through culverts laid by the IADC.
"It wasn't any significant rerouting of the river, but it allows for the river to flow safely under the runway, which will pass over the culverts to complete its construction," Matthias told SEARCHLIGHT.
Five rows of corrugated steel culverts, 1,000 feet in length, have been installed at the river crossing.
Backfilling of the culverts has begun and is continuing, with most of the culverts already covered.
Matthias pointed out that the tunnels have been designed to accommodate extreme weather events, such as the flooding of the river, which could hamper the operations of the airport.
"We always have to pay attention to these events, so we took that into consideration when designing the culverts and the airport, so that any extreme event would not make the airport inoperable."
The CEO said that the IADC will soon hold a public forum where the concerns of the public on matters of the airport, including the wind studies and the orientation of the runway at the airport, will be addressed.