Posted on
WINFA hosts bio-fertilizer training for local farmers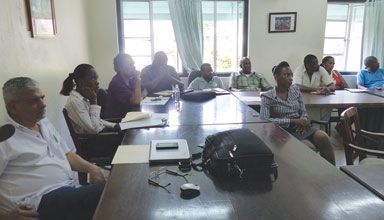 The Windward Islands Farmers' Association (WINFA), in collaboration with the Latin American and Caribbean Network of Small Fairtrade Producers (CLAC) has conducted a one-week bio-fertilizer development training programme in St Vincent and the Grenadines.{{more}}
The bio-fertilizer development project is part of WINFA's overall strategy to promote sustainable agricultural development and productivity in the region. It will target national banana farms in the first instance, and will be diffused into other crop types.
WINFA's coordinator Kozel Fraser remarked: "WINFA has always been proactive in addressing issues in the sector that affect producers." She noted that there are a number of issues that we have to keep focused on in agriculture, particularly the interconnection between health and safety issues, environmental degradation, food and nutrition security, as well as markets and the possibility of organic production. "While addressing the issue of sustainable agriculture, we also must position our producers to transition into emerging markets," she said.
The week of capacity training began on August 25, 2015, and ended on August 28.
This regional bio-fertilizer development project comes on the heels of a series of recent calls made nationally for a reduction of chemical applications in the agricultural sector.
To kick off the session, there was an introduction meeting at the Ministry of Agriculture conference room on Tuesday, followed by two days of field work to gather organic material in the forest and the mixing of the first phase of solid bio-fertilizer.
While the main purpose of the training was to build competence in the development of bio-fertilizers, farmers were educated on the environmental and economic benefits as well.
Bio-fertilizer is a chemical-free substance, which contains living micro-organisms. When it is applied to seeds, plant surfaces or soil, it helps to promote growth by increasing the supply or availability of primary nutrients to the host plant.
Bio-fertilizers are expected to reduce the use of chemical fertilizers, pesticides, insecticides, fungicides, nematicides and stimulants used on farms. It is also anticipated that the technology will reduce the cost of Black Sigatoka control significantly when fully developed.
The Black Sigatoka has devastated the banana industry in St Vincent and the Grenadines, costing approximately $2.5 million per year to control. The use of the technology is also currently being explored by WINFA for other plant diseases like 'Citrus Greening.'
Demonstration banana farms have been identified throughout the region in St Vincent and the Grenadines, Dominica and St Lucia, where the applications will be applied and studied over the next three years. This will be accompanied by the establishment of a bio-fertilizer facility nationally in St Vincent and the Grenadines, with central oversight by WINFA.
The CLAC representatives are scheduled to return to St Vincent and the Grenadines in the next two months for the commencement of the second phase of the project.