Posted on
LIME launches $500 Big Money Give-away Every Day promotion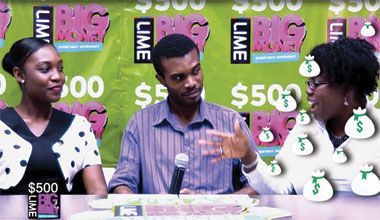 Telecommunications provider LIME kicked off its latest promotion this week, with customers and vendors getting a chance to win big in the LIME $500 Big Money Give-away Everyday promotion.{{more}}
From Monday to Friday, every week until the end of October, two persons will win $250 in cash daily, while a lucky vendor would earn $100 in resale credit every week.
Customers topping up $15 or more, or purchasing any one-month data plan, would qualify to win the cash.
The lucky winners would know they have won when they receive a phone call live on air, from a HOT 97 radio personality during the LIME Upgrade hour.
Apart from cash, one person will also win free petrol and free groceries on Fridays.
LIME customers have more than one chance to win in the promotion.
The campaign kicked off in fine style on Tuesday, with a big trade-in event at the LIME store in Kingstown, where dozens of persons who were not yet LIME customers made the switch by handing over their old smart phones and receiving new ones with LIME sim cards and credit, after activating data on their handsets.