Posted on
Two more customers win big in LIME Summer promotion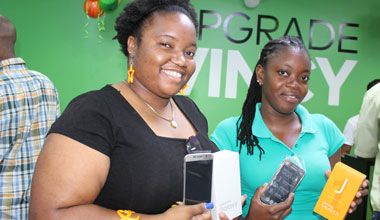 "Thank you very, very much Ms Williams, you think is now I want my daughter to have a LIME phone like me?"
These were the elated words from the mother of Caywama Edwards, Week five winner of the Samsung Galaxy S6. Caywama said that the phone she was using got damaged, so her mother allowed her to use the tablet she won from LIME until she could get a handset of her own.{{more}}
"God is good" said Caywama as she touched her new Samsung Galaxy S6.
Rochelle Byron was the second Week 5 winner. Rochelle could not stop screaming and the rest of her household joined in with her when she got the good news about her winnings. "I can't believe I just won! Thanks to LIME."
Just $1 can earn you a chance to win a smart phone in the LIME Summer promotion. "Text #SUMA to "6263" to win. Texts cost only $1, so text more to win more," said Nikala Williams, LIME marketing and communications lead.