Posted on
Eustace condemns search of Garifuna leader at ET Joshua airport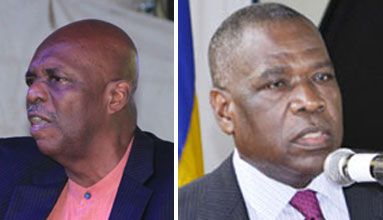 A search carried out on Garifuna leader Wellington Ramos during his departure from St Vincent and the Grenadines at the ET Joshua airport was "a deliberate thing to harass him."
So says opposition leader, Arnhim Eustace, who condemned the act publicly on air during his weekly appearance on the New Times radio programme Monday.{{more}}
Eustace noted that when Ramos was scheduled to arrive in St Vincent and the Grenadines, it was discussed with the relevant authorities that the Garifuna leader be given VIP status.
According to the Opposition leader, Ramos had already checked in his baggage, made his way through Immigration and was in the VIP lounge waiting to depart the country last week, when someone approached him with a document saying that he was to be the subject of a random search.
Eustace further stated that Ramos was taken to another area of the airport where his checked luggage was searched before he could return to the VIP lounge.
"I don't understand that, you know. We went before he came here. When he came here, I met him. I was in the VIP lounge waiting for him when he came off the plane. He was processed there; nobody didn't search his bag when he came in. His bag was brought into the VIP lounge after it went to Customs. Now he's going out, he was subject to random search," Eustace said, while describing the search as deplorable.
"I believe it was a deliberate thing to harass him. That is what I believe and I was most disturbed to find out that that did happen. We can't operate like that. We're supposed to be a civilized country and I believe people were acting on instruction."
Ramos arrived in St Vincent and the Grenadines on July 27 as part of a Garifuna delegation visiting the country to hold discussions with the New Democratic Party (NDP) on their promise of honorary citizenship for all Garifuna people in the diaspora, once the NDP are elected in the upcoming general elections.(BK)