Posted on
ECWI reaffirms position against same sex marriage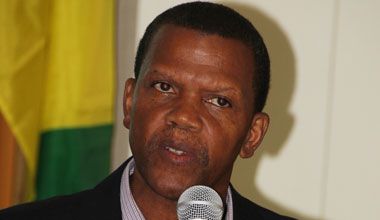 It is often said that "when America sneezes, the whole world catches a cold."
Last week, members of the Evangelical Churches of the West Indies (ECWI) proceeded to take precautions to immunize itself from the impending sniffle, anticipated in the wake of the legalization of same sex marriage in the United States.{{more}}
During a press conference on July 23 at Hotel Alexandrina in Prospect, St Vincent and the Grenadines, delegates at the institution's biennial General Council meeting unanimously reaffirmed their position against same sex marriage which was described, among other things, as a "diversion from and perversion of the sacred institution laid out in scripture."
"We believe that marriage is God's idea and must be defined by almighty God," Jerry Keanes-Douglas, the representative from Grenada, said in a statement.
"God's original template of one man and woman as co-equals in a legally and spiritually binding relationship must be respected and honoured as God's blueprint for marriage for all time.
"We therefore, as the people of God, maintain that the Bible speaks clearly and univocally and without any ambiguity that marriage as ordained by God is and must always be between a man born male, and a woman born female, and as a result this week, we took a policy position to stand on the biblical principle that marriage is a relationship ordained by God between a man and a woman 
"We understand that the world may challenge, dishonour and create its own ideas of family and marriage. We nonetheless remain very firm in maintaining that marriage is God's idea and must be understood and defined by God himself."
Keanes-Douglas went on to state that as an organization, which consists of 52 constituencies around the region, the United States and Canada, none of its ministers or pastors would perform, encourage or support in any way, marriage that is not according to the scripture.
He said that any minister who does otherwise will be disciplined and the council would seek to have his license revoked.
"Further, we will publish this among all of our churches and stand on this with other members of the religious community as our position for all time.
"We also believe that as we share our view, we ask people not to judge us as being 'hate baiters' or bigots or in any way having hatred to any or all who may differ with us as far as their sexual preferences are concerned. We love all men according to the scripture."
The minister said the stand taken by the organization is not a recent position, and that they expect to be pressured by outside forces to change its policy.
"Already in some parts of the world, Christians are under pressure for not going along with the pop culture and what's modern in the world today. It might not be governmental in this part of the world at this point, nevertheless there is social pressure and there are areas in which Christians are being challenged to 'get with the times,' so we anticipate that there is going to be some push back because we are holding on to God's precious word that in some quarters is regarded as obsolete and irrelevant for today.
"I just want to remind people of this: here is what God says 'I the Lord, I change not!" Keanes-Douglas said.