Posted on
Businessman encourages children to shine at start of library summer programme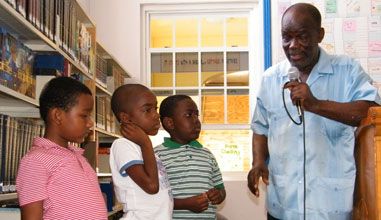 "The darker the night, the brighter the light… don't underestimate where God puts you!"
These were some of the wise words a prominent local businessman imparted to young participants at the launch of the National Public Library's 'Clap For Fun' summer programme.{{more}}
Omroy 'OT' Mayers, the founder and chief executive officer of Finishing and Furnishing, addressed the large group of 5 – 12 year olds at the summer programme's launch Monday, July 20, at the National Public Library at Richmond Hill.
Reminding them that they are never too young to know what career path they would like to pursue, Mayers said: "Many people think [that] at seven years old you don't know what you want… What you are to be is in you right now!"
The businessman, while driving home the importance of receiving a sound education, lamented the 'brain drain' that he believes St Vincent and the Grenadines is experiencing at present. He opined that too many of our talented and intelligent nationals have opted to work and develop their careers abroad, and are building up those nations instead of their own.
Using his own success as an example, Mayers insisted that lucrative careers can be established locally without having to work abroad, and can be more rewarding because persons can have more impact on a smaller community like SVG, than in bigger, more developed countries.
The summer programme, which this year operates under the theme 'It Starts With A Dream – Cottage Industries', will run for three weeks, and will see the participants getting involved in arts and craft, the literary arts and physical education sessions, among others.
Director of Public Libraries, Archives and Documentation services Michelle King-Campbell, in her opening remarks welcomed the participants to the annual summer programme, promising that the scheduled activities will not only be educational, but also very enjoyable.
"Over the next three weeks, you will learn a variety of skills which will helpful to you throughout your life," explained King-Campbell. "The activities will also challenge your imagination, and enable you to be able to write short stories, as well as develop your skills in grammar, spelling, and general written expression."
She also made an appeal to the nation's parents to get their children involved in the programme, which is also held in 14 other library branches across the multi-island state.
Parental involvement and influence was something that was also echoed by the featured speaker.
"Speak your children's future into being!" asserted Mayers. "Life and death is in the power of the tongue."
He beseeched parents to speak positively to their children, and to refrain from bombarding them with negative words and actions.
"If you bless them, they will be blessed… Whatever you teach them, something will stay with them."
King-Campbell also added that the reading and writing activities that participants will engage in will benefit them immensely in the long run.
"There is no doubt that a child who reads grows into an adult that thinks critically. Critical thinking is scarce in our communities and hence, the aim of the library is to engender and stimulate the development of this very important skill in the nation's youth."
She also spoke about the variety of ways in which the library is equipped to help young people with school research and homework and mentioned some of the new features which will soon come on stream. These include talking books, and books on CD/DVD, among others.
The vote of thanks was delivered by the programme coordinator Donna McLean.(JSV)