Posted on
SJCM, TSSS hold leadership seminar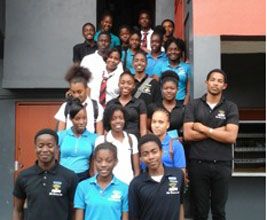 On Tuesday, June 30, advisors, executives and heads of committees of the St Joseph's Convent Marriaqua (SJCM) Elite Business Club and students of the Thomas Saunders Secondary School (TSSS) gathered at SJCM for the 3rd annual leadership seminar, under the theme 'Unlocking potential on the path to becoming leaders of excellence.'
The participants were actively engaged as they took part in the presentations made on Leadership in action, Emotional Leadership and Financial Leadership.{{more}}
The objectives of the seminar were to help the participants to identify their own leadership strengths and limitations, build collaboration, teamwork and trust through group work, along with helping them to value and recognize the accomplishments of others in the business world. The seminar ended with the presentation of certificates.
Seon Greene of SJCM and Roshanna Haynes of TSSS were awarded for being the most active participants of the seminar.
The Club will continue to hold various events as part of the proposed year of celebrations leading up to its fifth anniversary in February 2016.