Posted on
'The Samuel Brothers,' a hit at Uncle Skinny talent search contest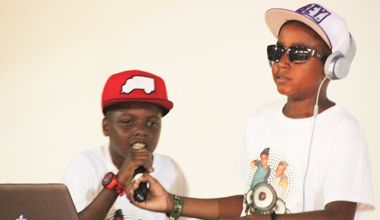 The mother of Jahmeek and Jahleek Samuel, the winners of this year's Uncle Skinny talent search competition, says that she, like other members of the audience at the Victoria Park, was completely blown away by her sons' performance, last Saturday.{{more}}
The boys, who go by the stage name 'The Samuel Brothers', received the judges' nod on the evening, surpassing 11 other young and talented performers, to take the title in the second year of the competition. Jahmeek, 11, aka DJ Boss, and 10-year-old Jaleek, aka Pablo Jr, executed an almost flawless DJ/hype man set, which had all at the venue screaming for more at the end of the presentation.
The brothers wowed the crowd as they dropped the latest soca hits, with the verbal intros to suit, and a few dance moves in between.
"I was quite impressed and taken by surprise. We trained every day for the competition, but what I saw was totally unexpected," mom Roxanne Samuel said.
"Jameek was always into music; he loves music, and Jahleek is more into singing, songwriting and dancing; so what they did came natural to them, music," she added.
Samuel said that her sons were looking forward to the finals since the day they qualified during the prelimary round, and had been preparing their selections, while at the same time Jahmeek, a pupil at the Stubbs Primary School, was also getting ready to sit the CPEA exams.
His brother is a grade four pupil at the Petersville Primary School.
The proud mother said that her sons took the competition very seriously and that their hard work and dedication paid off and it showed in their performance.
"After their performance, Jahmeek said to me that the crowd made him free up himself and gave him the confidence to become more hyped."
Samuel said that she, their father Joslan "Pablo" Samuel, other family members and friends are very proud of the boys and their accomplishment.
She added that as parents, they would be there to guide the boys through their new- found fame.
As part of their first prize, the boys will receive a four-year scholarship from the Bank of St Vincent and the Grenadines, among with other prizes.
Placing second in the competition was young contortionist/dancer Ciara Jeffers, while Shikyra Bynoe, who sang the Katy Perry hit "Roar," placed third.
The other finalists in the competition were Jada, Garcia Leigertwood, Phenomenal, Makia Samuel, Shortman and Starboy, Tiyanna Keizer, Ciara Jeffers, Amaris Murphy, and Tristion John.