Posted on
US based organization donates 23 barrels to local institutions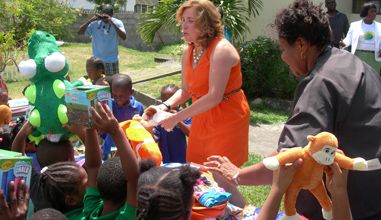 Three cousins, Susan Child-Ellis, Sally Regisford-Charleston and Natasha Bullock-Odero, who migrated to San Diego, California as youngsters, have made it their mission as adults, to give back to their homeland St Vincent and the Grenadines, through the SVG Helping Hands (SVGHH).{{more}}
The non-profit organization, which was established six years ago by the trio, raises funds to help local institutions here and assists them to fulfil their needs through what they term a 'wish list'.
This year, the SVGHH shipped 23 barrels to the Milton Cato Memorial Hospital (MCMH), the St Benedict's Infant Hospital, Guadalupe Home for Girls, Red Cross, Biabou Methodist School, Bread of Life, Miranda Pre-School, Liberty Lodge Home for Boys and Vinsave.
President Susan Ellis said their organization is pleased to assist those institutions that help those most in need in the country. She said they have been raised with the Vincentian mindset to always give back and they are pleased to make their contribution.
Ellis also presented local representative of the group Sheron France-Charles with a token of appreciation for her work in ensuring that the barrels are cleared at Customs and delivered to the various institutions. She thanked her for always going the extra mile to ensure that wish lists are fulfilled.