Posted on
New Christian book enlightens readers on their destinies, God's purpose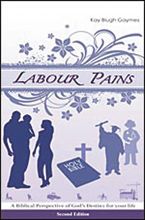 This week marks the nationwide release of "Labour Pains: a Biblical Perspective of God's Destiny for Your Life," a faith-inspiring new book by author Kay Blugh Gaymes. {{more}}
This second edition of "Labour Pains: a Biblical Perspective of God's Destiny for Your Life" is written as a guideline for believers. This book gives a clear and concise Biblical view of how believers can achieve God's destiny and purpose for their lives. God's people are here by his divine plan and purpose and not by chance. The devil will try to cause them to fail, but courage and faith in the Word of God will conquer him. Believers have to prevail through prayer when they are facing challenges in life.
In this book, the author explains that God may test his people's strength, stamina and ability. However, when he gives them the green light to go, they must not procrastinate; it is their time to move. God is also calling for travailing men and women of Zion to tarry for those who are weak and fainthearted. God is about to use that insignificant person in the house for his glory.
Published by Tate Publishing and Enterprises, the book is available through bookstores nationwide, from the publisher at www.tatepublishing.com/bookstore, or by visiting barnesandnoble.com or amazon.com.
Gaymes, who is a pastor's wife, has spent her life in the church and has served as a Sunday school teacher, youth leader, young women coordinator, worship leader, evangelist, preacher, speaker and facilitator of women's conferences. Aside from that, Gaymes, who is a mother of four children, has three decades of experience in public service of St Vincent and the Grenadines. The author also holds a Certificate in Public Administration from University of the West Indies in Mona, Jamaica; an Executive Diploma in Management from the University of West Indies in Cave Hill, Barbados; and a Master's degree in Business Administration from Leicester University in the United Kingdom.