Posted on
LIME contributes to Lionfish Derby, as Fisherman's Day approaches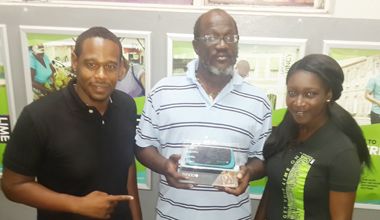 The third staging of the LIME Upgrade Fish Fest takes place in the Rose Place/ Bottom Town area later today. Fisherfolk from around St Vincent and the Grenadines are expected to gather in the fishing community for a night of activities, which include seafood meals prepared in various ways, domino competitions, music, and the highly anticipated "Man vs Seafood Challenge," which is a raw seafood eating competition.{{more}}
The festival is the last before next Monday's Fisherman's Day celebration, scheduled to take place at the Calliaqua Playing Field.
The last challenge, which took place in Calliaqua, was won by Jonathan Edwards. He walked away with the much sought after high-powered waterproof Fugoo speaker.
Last week, LIME also sponsored the locally held Lionfish Derby, which saw more of the dangerous species being pulled from our waters.
Various categories, including the persons catching the most lionfish, divers who hauled in the largest overall catch and heaviest single lionfish catch are some of the categories judged.
LIME has once again donated prizes in the form of a Smart phone to the winner in the Scuba Diving category and a 4G tablet to the winner in the Free Dive category.