Posted on
Invest SVG seeking to establish plantain chips facility in SVG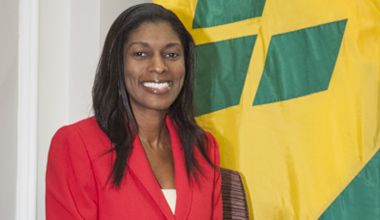 Invest SVG (ISVG), in conjunction with the Ministry of Agriculture (MOA), is negotiating with an investor from the Republic of Trinidad and Tobago to establish a central processing facility for the production of plantains chips for export and domestic consumption.{{more}}
According to executive director of Invest SVG, Bernadette Ambrose-Black, the establishment of a central processing facility can be considered a key in assisting with the reduction of this country's food import bill.
Minister of Agriculture Saboto Caesar noted that this initiative would open significant opportunities for plantain farmers in St Vincent and the Grenadines, since it would increase the consumption of plantains.
The establishment of such a facility, he said, would assist in terms of an increase in the cultivation and reduction of the importation of plantain chips from other countries.
During the month of May, Invest SVG and the Ministry of Agriculture will be leading a delegation to the Republic of Trinidad and Tobago to meet with several supermarkets, in an attempt to secure better markets for agricultural produce coming from SVG. This trip is expected to be replicated in Barbados and the British Virgin Islands before the month of June.
"The Minister is very enthused about the potential of having Trinidad importing more agricultural produce from SVG, as the Government attempts to carve out an even greater market share on the Trinidad agricultural commodities market," Ambrose-Black said.
"Since 2013, we have begun working more closely with the Minister responsible for each Ministry and/or relevant sector entities and Ministries. In the case of agriculture, we have enjoyed a harmonious and beneficial working relationship with Minister Saboto Caesar and his team and we continue to strength these ties through more collaborative work on the home front and abroad. The collaboration on the establishment of a central processing facility is just one of the many initiatives borne out of this fruitful marriage."
The executive director further stated that ideally, ISVG and the MOA would like to establish a full blown central processing services centre that will service all crops and that will offer contract fresh produce and food processing services to local buyers, including exporters, as well as overseas importers.
She stated that originally, it had been envisaged that the centre "will have a fresh produce/primary processing component capable of sorting, grading, washing, drying, packing and cool-storage of staple crops (dasheen, eddoes, cassava, sweet potatoes, yams, plantains, breadfruits) and fruits (mangoes, pommecytheres, hot peppers); a secondary processing component, capable of producing bulk semi-processed raw material preserved by freezing, heat or chemical treatment, targeted at the food manufacturing and food service industries (bakeries, restaurants, hotels etc); and a tertiary processing component, capable of producing value-added consumer packaged products for the private sector, particularly existing food distributors such as supermarkets, importers, exporters, new and existing micro, small and medium-sized firms, which are unable to establish or access facilities and equipment that meet market requirements, but who have products with existing demand or good market potential.
"This service will provide a strong enabling environment, which will make it easier for entrepreneurs to enter the agro-processing and food manufacturing sub-sector, with limited financing and minimal risk.
"We are still seeking funding for such a facility. However, we are extremely happy to have secured an overseas private investor who would be willing to work in partnership with the Government of St Vincent and the Grenadines (GOSVG) through the MOA to establish somewhat of a similar facility for plantain chips," Ambrose-Black said.
Both the Minister and the executive director agree and anticipate a positive outcome to this project, one that will serve to complement not only initiatives currently being undertaken by the GOSVG, such as the Banana Accompanying Measures (BAM) and the Farmers' Support Company (FSC) to mention a couple, but initiatives that are also in the pipeline as it relates to the reduction of the food import bill and the increase of exports.