Posted on
Cummings, Bess, Straker top Green Hill Sports and Cultural Club Spelling B finals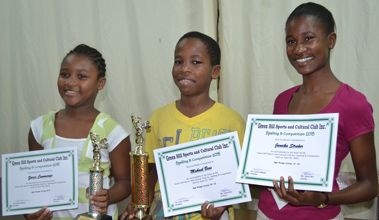 Zaria Cummings, Michael Bess and Janika Straker were all winners in the Green Hill Sports and Cultural Club Inc Spelling B finals, held on Wednesday, April 22, at the Green Hill Evangelical Church.{{more}}
Seven-year-old Zaria Cummings of Green Hill, for the second year around, defeated her other three competitors in the 6-9 age group to retain the Dixian Richards trophy, along with a cash prize. Jalicia Straker was second and Gabriel Bess third.
In the 10 -13 age group, Michael Bess of Green Hill emerged winner, to capture the Ella Nichols Baptiste trophy, along with a cash prize. Chad Haynes had to settle for second place after a tie breaker, while Aaliah Knights had to settle for third after a tie breaker between them. Last year winner Crystal Jacobs did not defend her title.
Of the three competitors in the 14-16 division, Janeika Straker of Green Hill came out on top, with Daniel Bess placing second and Jardel Williams settling for third. The 2014 champion, Klairison Defreitas, did not defend his title.
The competition was part of the organization's 34th anniversary celebration.