Posted on
Campden Park Baptist Church: Celebrating historic milestone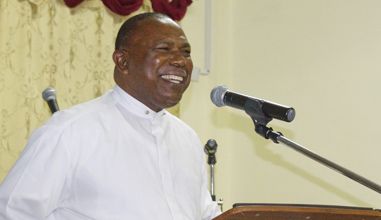 The attainment of 25 years of existence of any entity or organization is a feat of impressive proportion and its fulfillment must be given credit. The Campden Park Baptist Church (CPBC), a very vibrant church under the umbrella of the St Vincent and the Grenadines Baptist Convention, this year celebrates 25 years as a church. It marks this achievement with celebratory activities from March to October.{{more}}
On Sunday, March 22, the church held an Anniversary Service to give thanks to God for what it saw as His faithfulness. Pastor Fitzroy Sam told all that it was "celebration that comes at a time when we hear of post-Christianity." The number of church leaders, CPBC members and many other well-wishers coming together to praise God for the achievement, however, disproved this world theory. Special on the agenda were the "Reflections," read by the church secretary, Mrs Ann-Marie Johnson, and the sermon delivered by Pastor Verrol Blake, entitled "Celebrating the Old and the New."
HISTORY: COMING THUS FAR
Like many other churches here in St Vincent and the Grenadines, the Campden Park Baptist Church has come from very humble beginnings. A church historical review showed that in 1986, a group of persons who were members of the Kingstown Baptist Church, led by Pastor Verrol Blake and Sister Norma Blake began with a Bible study in the driveway and porch of the Blake's residence in Old Buff, Campden Park. It later moved into incomplete premises in the same area, for a monthly rent of $300. The review recorded that the church had to provide the roof, windows, shutters and a toilet, but that the rent never increased for the 18 years that they remained in that location.
In 1996, the church called Pastor Fitzroy Sam to assume full pastoral role when Pastor Blake left to start a new church at Buccament. As the church continued to grow, Pastor Sam sustained the church's vision of creating a permanent home for the church family. Since 1992, the current site had been identified as a perfect place for the building, and members had made a habit of praying for God's provision on that said spot. Additionally, application having been made to government agencies for the purchase of the land and designs submitted, it was not until March 2003, after more than a decade, that the land was obtained.
By May, 2004 a plan for the church building was approved, and construction begun in August of the same year. On 3rd August 2008, the first worship service on the current site was convened. By December 7th that same year, official worship activities began there in full. The fulfillment of the church's vision is due primarily to God's faithfulness over the last 25 years. It is also with a deep sense of indebtedness and gratitude that the Pastor and members of Campden Park Baptist Church recognize the sacrificial and invaluable contributions in money and kind from brothers and sisters locally and overseas.
THE CELEBRATION CONTINUES
As the celebrations continue, the vital spiritual discipline, prayer, will be the focus of the month of April. May will see a Children's Rally and Panel Discussion, with a Men's Talk, the creation of a Church History Scrapbook and website launched in June. July will record the Church's Incorporation and fun activities for members and friends. In August, the children will be taken on a 'back-to-school' picnic, and the entire congregation will be engaged in a Night of Creative Arts. During September and October, the church will journey back to its roots via the production of Picture and Video Albums, Church Documentary and an Anniversary Magazine. The curtain will come down on the year-long celebrations with a Youth Rally and an Anniversary Appreciation Dinner.
With its resolve "to serve the church body and the world for the glory of God," the CPBC will continue this mission as the years unfold.