Posted on
Elderly woman hospitalized hours after leaving nursing home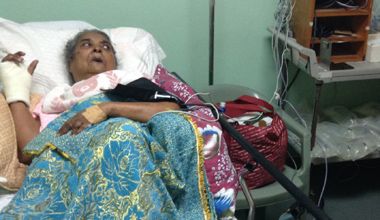 Hours after Yvonne Thomas removed her mother, Muriel Yearwood, from the Thompson Home, Yearwood was admitted to the Milton Cato Memorial Hospital with pneumonia.{{more}}
In the March 27 edition of SEARCHLIGHT, it was reported that Yearwood's right hand was fractured while in the care of the 110-year-old establishment for senior citizens.
Thomas, the owner of the Stoplight Restaurant, questioned how her mother's hand had been damaged. The businesswoman said she was served with a letter on Monday, March 23, which was signed by the president of the Thompson Home, ordering her to remove her mother from the establishment, with immediate effect.
The concerned daughter said that she removed her mother from the care of the home on Saturday, March 28, but during the wee hours of Sunday morning, when she took Yearwood to the bathroom, it seemed like her mother was about to die.
Thomas stated that when they got back to Yearwood's room, the elderly woman could not hold herself up and had to be lifted by her daughter and grandson onto her bed.
"I say, mommy, you mean I bring you home tonight and you going and die?" the Glamorgan resident said.
She rushed her mother to the Milton Cato Memorial Hospital (MCMH), where she was admitted on Sunday morning at about 2 a.m., when doctors discovered that she had pneumonia in her left lung.
The restaurant owner disclosed that one doctor asked her why she was not looking after her mother.
"He said my mom wasn't being looked after properly. My mom wasn't taken good care of," Thomas told SEARCHLIGHT.
Yearwood was discharged from the MCMH on April 1 and is being taken care of at Thomas's home.