Posted on
Dr Onu launches book dubbed 'The Art and Science of Success'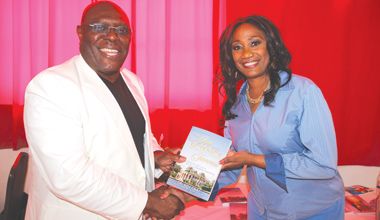 Local ophthalmologist and motivational speaker Dr Ken Onu, on the weekend, successfully launched his book "The Art and Science of Success."
Onu presented the publication last Saturday, at the third annual Karen Hinds Phenomenal Women's conference, where he autographed copies of the book for persons attending the sessions.{{more}}
The Art and Science of Success is a collection of some of the greatest success minds, who are sharing their secrets to financial freedom, unprecedented personal success, and unlimited human potential.
Onu believes that the publication, co-authored by a number of other leading experts, is guaranteed to uplift, empower and motivate its readers to take action and fulfill their dreams.
Persons can purchase copies at Jujube and Gaymes bookstores.
Onu was also the lone male presenter at the all-women conference, where he educated those attending his session on the topic: "How to make your business brand stand out," informing them on possibilities and opportunities to make their business, products and services, bigger, better and more effective.
Onu joined fellow presenters Carita Dee, Rachael Punnett, Laverne Gibson-Velox, Lisa Cummins, Lena West, and of course, Karen Hinds, in uplifting the women at the conference.
He intends to conduct a follow-up session with the participants who attended the event, at a date to be announced.
On April 25, Onu will continue his own lecture series 'Attract Freedom', with part two of the presentation "Overcoming Adversity."
The presentation takes place at the Paradise Beach Hotel conference room, and begins at 6 p.m.