Posted on
Dr Onu gives three-step formula on 'Overcoming Adversity'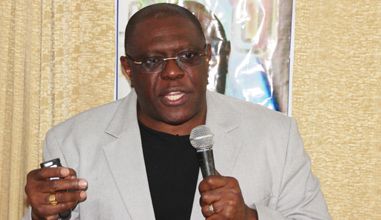 "The most important time in your life is right now."
That's the message Dr Ken Onu drove home to those present last Wednesday, at the Paradise Beach Hotel conference room in Villa, as he embarked on a series of motivational speeches and lectures {{more}}entitled 'Attract Freedom.'
The well-known opthalmologist spoke on his first topic "Overcoming Adversity," in which he gave his audience a well proven three-step formula that would enable them to bounce back from hardships and difficulties and all other obstacles that life may throw their way.
The presentation will be repeated next Thursday at the Frenches House in Kingstown, beginning at 6 p.m.
Onu declared that the first step to overcoming adversity is a reprogramming of the conscious mind, which would enable persons to function at a higher level in life.
He urged them to "stop staring at closed doors" when confronted by misfortune, but to accept the situation and seek positive alternatives.
The second step, he said, includes the reprogramming of the subconscious minds, which includes shedding negative past and the limiting beliefs that are stopping them from achieving success.
He indicated that in order to free the subconscious minds, individuals need to identify these beliefs that restrict their growth, and getting rid of them, through positive mindset.
Onu said that step three involves elevating one's vibration to above the "500" level, by incorporating love, joy, peace and gratitude in their lives.
He pointed out that positive thinking and actions attract more positivity and that this can be elevated by the people one associates with and having an attitude of gratitude, love and forgiveness.
He urged his listeners to set declarations of power, happiness, harmony, prosperity, gratitude and generosity, which would help in overcoming the adversity they may encounter in their daily lives.
Apart from the lecture series, Onu would soon be launching a book he co-authored with other motivational speakers.
Dr Onu is the lone male presenter at this year's Phenomenal Women conference, scheduled to take place here on April 11.