Posted on
Rotaracts assist Bread of Life Orphanage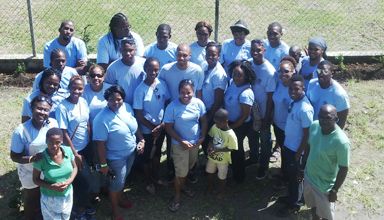 Members of the St Vincent Rotaract Club and their St Lucian counterparts teamed up over the weekend to bring cheer to young residents of a local orphanage.{{more}}
Club members journeyed to Georgetown last Saturday, where they conducted a joint community service project, planting trees and flowers at the Bread of Life Orphanage. This project entailed some landscaping around the property, and the participants were ably assisted by Rotarian Earl Tash of Garden Care.
The Rotaracters also made a donation to the orphanage, which currently houses six children.
The Rotaract Club is a non-profit organization for young adults between ages 18-30. The local club celebrates its 31st anniversary this year, after being chartered in 1986.
The club will hold a fellowship this weekend as part of activities to mark its anniversary, and plans to travel to St Lucia as part of that island's charter celebrations in April this year.
The club will host its annual Spelling B competition in October, and its One Wish project in December.