Posted on
Non-resident Ambassador of Kingdom of the Netherlands presents Letters of Credence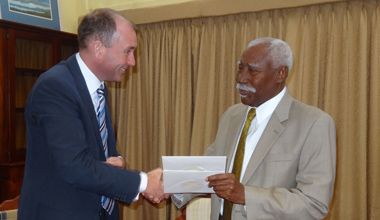 On Thursday, March 5, 2015, the new non-resident Ambassador of the Kingdom of the Netherlands to St Vincent and the Grenadines, His Excellency Jeroen Willem De Graaf, resident in Trinidad and Tobago, presented his Letters of Credence to His Excellency Sir Frederick Ballantyne, Governor General of Saint Vincent and the Grenadines at Government House.{{more}}
In addition to his meeting with the Governor General, Ambassador De Graaf made a courtesy call on the Minister of Foreign Affairs, Foreign Trade, Commerce and Information Technology Senator Camillo Gonsalves. Moreover, the Ambassador was given an extensive tour of the Argyle international airport site.
Furthermore, besides being accredited to Saint Vincent and the Grenadines, Ambassador De Graaf also serves as non-resident ambassador of the Kingdom of the Netherlands to Barbados and other Organization of Eastern Caribbean States (OECS). His posting to the region is his first assignment as an ambassador of the Netherlands.
St Vincent and the Grenadines and the Kingdom of Netherlands established diplomatic relations on April 8, 1981.