Posted on
FIU and RSVGPF strengthen relations in taking proceeds out of crime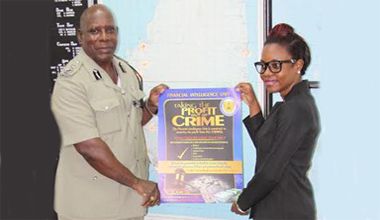 The St Vincent and the Grenadines Financial Intelligence Unit (SVG-FIU) through continued partnership with the Royal Saint Vincent and the Grenadines Police Force (RSVGPF) has created a poster that is designed to remind the RSVGPF of the critical role they play in taking the profit out of crime.{{more}}
The FIU has crafted this poster with a view of ongoing training, awareness raising of the Proceeds of Crime Act (POCA) and its enforcement provisions that the RSVGPF can utilise. The posters were handed over to the Commissioner of Police on March 4, 2015 and are to be placed at all police stations.
Sections 15 and 16 of the Proceeds of Crime Act, No: 38 of 2013 make provision for the application for confiscation orders for drug trafficking and relevant offences. A Confiscation Order is applied for post conviction and the application should be made before the Defendant is sentenced. As such, it is important that the SVG-FIU be notified of charges brought against person(s) at the earliest opportunity to put the wheels in motion to have assets confiscated in drug matters and other major offences such as robbery, murder for hire and theft, amongst others. Criminals should not benefit from their crimes and the POCA is at the disposal of the RSVGPF.
A long history of cooperation between both agencies is evident in the efforts promulgated by the RSVGPF in the seizing and subsequent forfeiting of criminal proceeds, of which St Vincent and the Grenadines has been a pioneer. The RSVGPF has an important role in curbing crime and instances of crime. POCA is one of the most vigorous legislations in this regard and it is the intention of both agencies to capitalise on the powers that are given to law enforcement officers under the POCA and use it to the benefit of protecting our jurisdiction and ensuring economic stability.
Provisions are made within the POCA for the RSVGPF to benefit therefrom. Pursuant to Section 160 (1) all monies that are forfeited, confiscated, property recovered shall be paid into the Confiscated Assets Fund (CAF). Subsection (4) allows for allocation of funds by the Minister of Finance on an annual basis to various stakeholders after priority payments are made. The Minister shall authorise the payment of fifteen per cent (15%) to supplement the resources allocated under the National Budget to the RSVGPF and ten per cent (10%) to the Saint Vincent and the Grenadines Coast Guard. These monies can be used to facilitate training for suitable officers at money laundering centers such as Caribbean Regional Drug Law Enforcement Training Centre (Redtrac) and overall advancement of the RSVGPF.
Through this poster, SVG-FIU trusts that there will be an improvement in the effectiveness of our collaborative efforts to take the profit out of crime. Our agency will continue to work tirelessly to ensure that criminals do not flourish within our jurisdiction, remaining faithful to our ultimate goal – taking the profit out of crime.