Posted on
Police conducting survey to find new strategies to help fight crime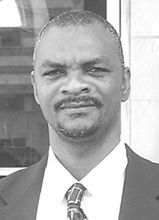 The survey, which began yesterday, is being carried out in the communities of Old Montrose, New Montrose, Cane Garden and Level Gardens.{{more}}
Head of the Criminal Investigations Department (CID) Assistant Superintendent of Police (ASP) Sydney James said the exercise is in its pilot phase and other areas will be surveyed following the trial run.
He said the neighbourhoods Old Montrose, New Montrose, Cane Garden and Level Gardens were targeted for the pilot, because of a large number of burglaries and significant drug activity in these areas.
"We are just going for crimes in general. We would just have to go and carry out the survey and come up with new strategies based on the feedback we get," James told SEARCHLIGHT yesterday.
ASP James said the survey is also a means by which the police force could forge a better relationship with the general public.
"The Royal St Vincent and the Grenadines Police Force is working towards enhancing the partnership with you, the public, to help reduce crime in our community. In order to produce a strategic assessment, we need your views," the CID head said.
"We also want to know how we can better serve. We need to hear the public's perception on crime."
James said once the pilot survey is completed, they will carry it to other communities across the country.
"Once we get the responses from the people, we will form ideas and come up with new strategies," James further stated.
He explained that survey will be carried out by officers from the CID dressed in civilian clothing, who will have to show their police identification when they come into contact with persons.
Commissioner of Police Michael Charles says he welcomes the initiative put forward by James.
"When he came up with the idea, I supported him 100 per cent. If we can find out exactly what is happening from the survey, we will be able to focus our resources to counter the type of things happening in these and other areas," Charles said.
Charles said he is optimistic about the direction that the police force is taking in terms of their approach towards tackling crime.
The survey, which takes the form of a questionnaire, consists of 18 questions.
The pilot phase ends on March 9.