Posted on
Drummers ask for Balliceaux to be declared national monument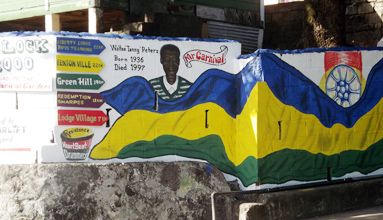 The Resistance Heartbeat Drummers Inc, a cultural and educational organization, will, during the months of March to July, be seeking the support of the public in a campaign to have the island of Balliceaux declared a monument.{{more}}
The group, which is based in the Kingstown Park area, celebrated its fourth anniversary in July 2014.
The organization's work plan for the period July 2014 to 2015 includes the painting of a portrait of the late Tanny Peters, cultural icon from the Block 2000, Montrose area; the painting of a mural at the same Montrose intersection; the painting and cleaning of the spa in Gomea; a CD recording project; a cultural show in Kingstown and the organization's fifth anniversary celebrations.
During the month of October, the painting of the portrait, the mural and the beautification of the spa were successfully completed.
The drummers thanked Coreas Hazells Inc for providing paint in the national colours. At present, the CD recording project is in progress and the songs will be released soon. Three songs were recorded: the drumming group theme song; a song dedicated to the life and works of black nationalist and former president of South Africa Nelson Mandela, who passed away on December 5; and another song titled "Balliceaux." This song is calling for the State to acquire the tiny island of Balliceaux and for it to be declared a national monument dedicated to the native Garifuna people; the song was penned to coincide with the 2015 Heritage Month celebrations. The song Balliceaux will be used to highlight the campaign, along with a cultural show planned for the end of March.