Posted on
Organizations benefit from charitable event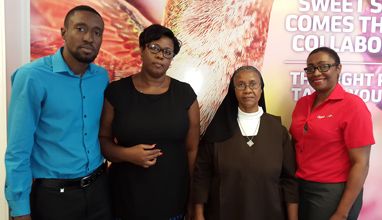 Two charitable organizations, the Liberty Lodge Boys Training Centre and the St Benedict's Day Nursery and Children's Hospital, have benefitted from the generosity of Amgine Entertainment, Fuma Ultra Lounge and Digicel.{{more}}
On Wednesday, December 31, Amgine Entertainment and Fuma Ultra Lounge held an Old Year's Night party, which was sponsored by Digicel.
Last Tuesday, at Digicel's corporate offices, located in the Lewis Building on James Street, some of the funds generated from the event (called Resolutions), which was held at Surfside in Villa, were given to Liberty Lodge and St Benedict's.
Commenting, Kevin Robinson of Amgine said that his organization, through events that they do, are trying to adopt charities, "to assist in any way we can."
He added that while they have started small, they have plans to try and assist in any way possible.
"I understand that there is also a need for counsellors and I have skill sets and other team members have skill sets, so we can come and try to instil certain things in the young persons present at these organizations."
Robinson stressed also that they will in the future try to supply more funding, for not just food stuff and toiletries, but for infrastructure and other things.
Sister Nyra-Anne Pajotte of St Benedict's was on hand to collect the donation and noted that her institution was very happy to have been chosen, "because we are always in need of help and we want the children to be happy and to grow into happiness and to be responsible."
She added also that through donations, the children they care for will realize that other people care for them, "so, that would help them to understand that while they are in the home, they can do better with their lives and become good citizens of the nation."
Cherise Durrant of the Liberty Lodge Boys Training Centre thanked Amgine for choosing their centre.
"We are looking forward to working with you, especially with the counselling aspect and for the rest of the year I hope we keep in contact," said Durrant.
Marketing manager at Digicel Juno DeRoche revealed that Digicel has been working with Amgine and in December what caught their attention, "and gave us the drive to get involved, was the charity element of the proposed event called Resolutions."
She said that Digicel also tries try to cater to the less fortunate in society in whatever promotion they execute in the market.
She added that they have worked with the Liberty Lodge before and recently with the Guadeloupe Home for Girls and a number of other charitable organizations and groups.