Posted on
SJCM Elite Business Club prepares to celebrate 5th anniversary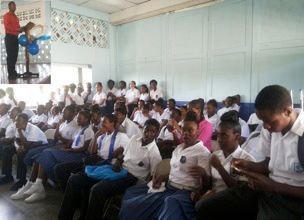 Fri, Feb 13, 2015
On February 7, 2011, through the inspiration of a Principles of Business student, the SJCM Elite Business Club was formed and has been one of the most active clubs at the school. Trying to live up to its mission of developing the business mind while transforming the business world, the club has engaged in varying activities throughout the years.{{more}}
In 2016, the club will celebrate its fifth anniversary under the theme 'Celebrating our journey – pursuing excellence in all things' and so an executive decision was made to host a year of celebrations, leading up to this milestone. So, on Monday, February 9, at a special general meeting, chaired by senior advisor Shonté Gibson, the official calendar of activities was launched by the CEO's delegate – elite Jerremy Haywood.
The meeting heard remarks being made by the current senior president Dalan Wilson, along with junior president Kwesi Allen. Following which Elite Deneisha Davis rendered 'If we hold on together, I know our dreams will never die…,' inspiring all elites to continue working towards the club's goals and mission. The year was officially declared open by the founder and chief executive officer of the club – elite S Alexander.
The activities on the official calendar include several raffles, sponsored walks, lectures, leadership seminars, Camp Elite, community outreach, spiritual retreats and business week. The members of the SJCM Elite Business Club appeals to the businesses of the private sector to take this opportunity to work along with us, as we try to mould the business men and women of tomorrow.
(contributed by Jasmine Wilson Chairperson: Anniversary Celebrations Committee)