Posted on
Bequia Anglican Primary School hosts Literacy Week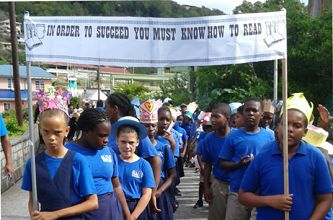 Tue, Feb 10, 2015
The Bequia Anglican Primary School held activities for Literacy Week from January 26 to 30. The theme for the week was: "In order to succeed, you must know how to read."{{more}}
The activities focused on reading. On each day of Literacy Week, students from the upper grades read to students of the lower grades. A different student read at assembly each morning. Students also went out and read to people in the community.
On Wednesday, Brielle Compton, a student of the school, who placed third in the Courts Reading competition, read a story on MIXX FM, a local radio station at Paget Farm.
On Thursday morning, everyone dropped everything and read for 15 minutes. Later, during the afternoon session, students had fun as they participated in a treasure hunt. On Friday, there was a march through Port Elizabeth followed by a rally, at the school.
The invited guests were Elaine Ollivierre, former principal of the Bequia Community High and retired education officer and Dillon Ollivierre, a local poet. Elaine Ollivierre spoke about the importance of reading, while Dillon read two poems.
Each grade sang a jingle. There was also a skit about the importance of reading. Jamya Shade entertained the school with his composition "I love to read." There was also a special reading activity for boys only.
The LITERACY WEEK was a success. (Contributed by Madge Providence Hazell, Head teacher, Bequia Anglican Primary School)