Posted on
Psychologist 'impressed' with healthcare in SVG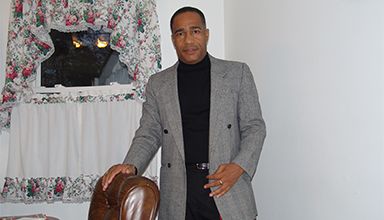 A US-based Vincentian psychologist who volunteered his counselling services during the Rock Gutter tragedy has said that he was "impressed" with the way the healthcare authorities responded to the incident, and the overall manner in which the Milton Cato Memorial Hospital (MCMH) is run.{{more}}
Dr Claudius Davis PhD, who runs a practice offering a variety of counselling services in New York, said that he had expected a much worse state of affairs when he arrived, but found his experience to be "pleasant and wonderful."
"What I found was not the images being portrayed in the talk shows," admitted Davis.
"You have these stereotypes and images of what things actually are… Much of my information really came from programmes that [are] directed to North America; talk shows and stuff like that."
Davis, who originally hails from Vermont, said that in the past, he had shied away from visiting the island more frequently, because of the "horror stories" he had heard being discussed on radio programmes. However, because of the nature of the accident, he felt compelled to come down to offer his services to the survivors and families of the bereaved.
"It bothered me, the images that are being put forth by individuals on the island," he told SEARCHLIGHT in an interview on Tuesday, February 3.
"It is so unfair, I think, to the professional people there in St. Vincent."
Dr Davis said that he found healthcare management to be far better than he had anticipated, as well as the professionalism of nurses and other hospital staff. He also said that he found the roads in St. Vincent to be in better condition than those in certain parts of New York.
Having spent extended periods of time at the MCMH, he said that he was "not once concerned about my health or eating or anything like that. It was just so pleasant and clean."
"I don't get why folks go out of their way to denigrate the country, and then expect people to endorse them to take the country forward," he lamented.
Davis said that previously, he had got the impression that Opposition Leader Arnhim Eustace was a quiet, honest, sincere… man of truth."
"What I saw, it was the opposite. What they sell is so deceptive! It seems like there is a crisis of integrity."
Davis further noted that Eustace acts more like a "manager" than a leader.
"I don't think St. Vincent needs a manager right now. What they need is more of a… visionary person… the government seem to be people of vision, and I think they are looking forward rather than just in the here and now."
He did, however, note that there is room for improvement in terms of local healthcare – especially in regard to visitor protocol at the MCMH, and the need for more training within the mental health sector.
Davis insisted that, in future, he will be developing a training and support system (in regard to counselling) in SVG, which will see him visiting the island more often.
Davis hold a doctorate from Union Institute in Cincinatti, Ohio, with a specialisation in neuropsychology; and a Master's degree from Stonybrook University, with a focus in substance abuse. For more information on the services that he offers, visit his website at www.drcdavis.com (JSV)