Posted on
New Testament Church of God celebrates 75th anniversary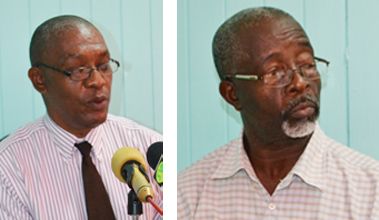 The New Testament Church of God in St Vincent and the Grenadines and St Lucia is this year celebrating 75 years since it was founded locally by a group of regional and international missionaries.{{more}}
At a press conference on Wednesday, January 28, representatives from the church outlined the scheduled events that will take place throughout the year to mark the milestone.
Bishop Wendell Davis, the administrative Bishop for SVG and St Lucia, pointed out that 75 years of existence as an organisation is "no mean feat."
"We have been active and progressive in terms of our spiritual activities," noted Davis. "But this being our 75th year, we are in the process of analysing what we have done, and how to take the church to the next level – to be a more responsive force in St Vincent and the Grenadines!"
Bishop Chesley Ferdinand, education director, said that the church's ministries are quite diverse, with them being active not only in spiritual matters, but also the social and educational.
"The church recognises its social responsibility," asserted Ferdinand. "The church very much has a social ministry that we see as pivotal… it is deeply rooted in scripture."
Ferdinand explained that in addition to operating a "full-fledged" Bible college (Bethel Bible College of the Caribbean), the church is also involved in a variety of youth-based social activities, such as dance, drama, and choirs.
Additionally, they provide relief in times of natural disasters, and operate a feeding programme and a back to school programme.
Davis gave a rundown of the year's events, in which he invited all members of the public to take part. These include:
– February 1: boat ride/ pilgrimage to Bequia; Youth Extravaganza
– February 16: 'Mother Priam' (founding member) lecture at the Methodist Church Hall, 8 p.m.
– February 22: Canouan congregation celebrating its first anniversary
– March 7: Pre-convention prayer breakfast
– March 27 – 29: Church convention in St Lucia
– April 14: launch of a book documenting the development and growth of the church locally
– April 15 – 19: National Convention – with two nights of services, Youth Extravaganza and Mission Service/Parade at Arnos Vale Playing Field.
Bishop Davis also disclosed that the church intends to revive the now-dormant mission in Vermont, as well as start new ones north of the Dry River and in Union Island.
The New Testament Church of God was founded in SVG in March 1940, with the international body being established in 1886. Currently, the church has a presence in 180 countries worldwide, with congregations in every Caribbean island.
There are 22 congregations in four districts (Kingstown, Lowmans, Diamonds and Chateaubelair) in St Vincent, Bequia and Canouan.