Posted on
Richmond Vale Academy founder pays visit to SVG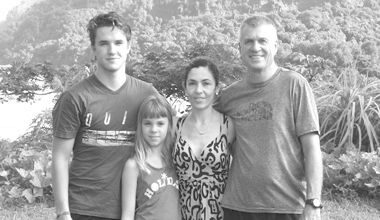 Staff and students of the Richmond Vale Academy (RVA) and residents of the surrounding villages have expressed their joy about the return to St Vincent and the Grenadines of the founder of the school, after 26 years away.{{more}}
The RVA was founded in 1982 by Ole Mengel, a national from Denmark, who built the academy as a means of developing and bringing close community ties with residents of North Leeward.
The school began as a learning centre with 48 students, who were taught a variety of different skills, including carpentry, farming and mechanics, that would allow them to be more self-sufficient and independent.
"I feel like I am home away from home," said a delighted Mengel.
"When I began this school some 33 years ago, the idea was to train and teach residents of Chateaubelair and surrounding villages different skill sets, so they would be more self-sufficient. I am proud after so many years away, on my return to see some of the original past students of Richmond Vale Academy like Esron "Sacka" Thompson, owner and proprietor of Beach Front Restaurant, doing so well. I am proud to see what the academy has accomplished in my absence; the different work, the staff and students, who have volunteered during natural disaster and their continued work with the people and Government of St Vincent and the Grenadines."
The Richmond Vale Academy is a non-profit organization registered in St Vincent and the Grenadines, and continues its task of setting examples and teaching the people of St Vincent the importance of climate change, what can be accomplished by recycling, re-planting and organic farming to keep the beauty of this island for generations to come.