Posted on
Vincy to attend Latin Dance Trainers Course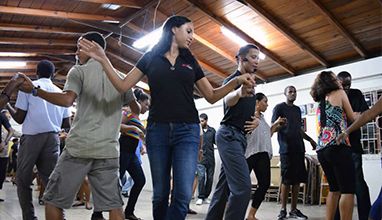 Tomorrow, January 24, Anton Jardine, chief instructor of Vincentian Dance Club Latin Passion SVG (LPSVG), will be travelling to Trinidad and Tobago to attend the first Latin Dance Instructors Training Workshop.{{more}}
The workshop is organized collaboratively by the top Latin Dance Clubs in Trinidad, that make up the extensive T&T Salsa community. These clubs also organize the Annual Trinidad & Tobago Salsa Fiesta that attracts international instructors and Latin dance enthusiasts from all over the Caribbean.
The workshop is being conducted by Nelson Flores of New York, founder and creative director of the world-renowned Latin dance production company – Descarga Latina. Flores is a well-known teacher, competition judge and a certified instructor at the world-famous Puerto Rico Salsa Congress. He has also performed and choreographed with international music artistes, including Oscar De Leon, Tito Nieves, Celia Cruz and Marc Anthony.
According to Jardine, LPSVG's goal is to effectively teach Latin dancing according to internationally accepted standards and put SVG in a better position to prepare itself to offer Latin dancing as a tourism product, as individuals and clubs travel all over the world to take part in Salsa Congresses.
That also means preparing LPSVG's members to be able to handle themselves on any Latin dance floor, anywhere in the world and be able to welcome Latin dancing tourists, ensuring that they are more than satisfied with the quality of Latin dancing in SVG, and thereby encouraging them to return time and again.
According to Jardine, "I am very excited to have been invited to participate in this prestigious event. This opportunity will improve my abilities as an instructor even further and I will be sharing that knowledge with my fellow LPSVG instructors when I return."
There will be a new LPSVG beginners' class starting Monday, February 2, from 6:30 p.m. at the LIONS Den, Kingstown. This new batch of students will be the first to benefit from the outcome of the training at the Latin Dance Instructors Training Workshop.
Latin Passion SVG is a non-profit organization, made up of some 50 members. It recently celebrated its first anniversary. LPSVG hosts three weekly Latin dance classes and currently partners on two weekly Latin dance parties in St Vincent at Octagon and Flow Wine Bar.