Posted on
UWI offering more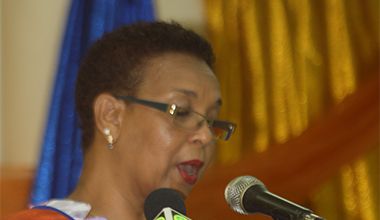 The number of students pursuing studies at the University of the West Indies Open Campus has increased to over 400 during the 2014/2015 academic year, of which approximately 310 are online students.{{more}}
With this in mind, according to head of that institution Deborah Dalrymple, the Open Campus has increased its academic offerings.
Speaking at the 2015 Open Campus' Recognition of Graduates Ceremony on Friday, January 16, Dalrymple said, "the Open Campus is expected to enhance service to communities by procuring new programmes in order to respond to priority national and regional needs and expanding opportunities for multi-mode delivery of continuing education and professional programmes."
She said that this year, the Academic Programming and Delivery Department plans to offer additional areas of specialization in undergraduate programmes in Management Studies, as well as new Bachelor's degrees in Accounting, Political Science, Psychology and Sociology.
"These programmes would offer exit points at the certificate and diploma levels as well. We are excited too that additional post graduate programmes are on steam, at both the Master's and Doctoral levels. For those persons in our community who may want to study at the certificate and diploma levels, we offer continuing education programmes on-site, with plans afoot to offer continuing and professional development programmes on-line as well."
Dalrymple said that over the past year, the St Vincent and the Grenadines site responded to community training needs by offering Continuing Education Courses in Supervisory Management; Managing Projects for Success; Caring for the Elderly; Guidance and Counselling; and Advanced Counselling Skills: Working with the Adolescent.
These are in addition to the Theatre Arts, and Understanding Music courses.
Dalrymple added also that the Open Campus has facilitated workshops designed to address needs in the corporate sector and the general public.
"The Community Care Series included Care of the Young Child, Care of Disabled Persons and the Care of the Elderly. Another workshop, Reading and Understanding Financial Reports, was well received in the business community," said Dalrymple.
"At this site, the philosophy of lifelong learning is a thread that runs through all promotional and outreach efforts. The Open Campus is proffered as an institution where one can not only access tertiary education, but one where you can pursue a dream which may have been shelved, as other needs took priority," said Dalryple in her address.
She added, "the Open Campus currently serves adults who seek education part-time, because they are employed or have families that they need to care for and support. Provision of access to university education through the Open Campus sites therefore, is not simply convenient, but it is an avenue through which individuals can improve their academic and professional competence."
During last Friday's ceremony, 45 students graduated in various fields, including BEd Educational Leadership and Management, BEd Literacy Studies, BSc Accounting and BSc Economics.