Posted on
SOL donates to Automotive Division of SVGCC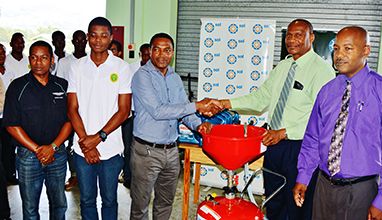 Sol EC Ltd has donated lubricants and equipment valued at over EC$7,500 to the Automotive Division of the St Vincent Community College (SVGCC) Technical Division.{{more}}
At a presentation ceremony on January 14, general manager of Sol EC Ltd Steve Francis said the association between SOL and the SVGCC started a few years ago when students from the Automotive Division participated in their Shell Lubricant Seminar.
"After this seminar, the relationship between the SVGCC and SOL was further strengthened, as we kept in close contact with the Automotive Division through our Sales representative, Mr John Jacobs. It is because of this cemented relationship why we are here today to hand over an oil drain canister and Shell lubricants to the College.
"We trust and hope that this token will assist in enhancing the practical training of students and an improved understanding of the handling and disposal of lubricant waste oil," Francis said.
He also disclosed that SOL has allocated BDS$1 million to provide scholarships to students from Barbados and the Eastern Caribbean to all UWI Campuses, including the Open Campus in the faculties of Engineering, Social Sciences, and Science and Technology.
Francis said perhaps the time has come for the SVGCC to look at expanding their programmes to cater specifically to the needs of the petroleum industry.
"There is a shortage of trained people to effectively cater to our needs. There are three petroleum companies operating here and I am sure, like us, they too have to go overseas to bring in people to do various kinds of work."
He suggested that one of the first areas the college may consider starting with is LPG installation, as there are not many persons who have the skills to do such installations.
Francis said he was happy to collaborate with the SVGCC and said he looked forward to strengthening the relationship.
Also present at the ceremony were Kenroy Questelles, head of the Engineering department, John R Jacobs, Sales supervisor, Sol EC Ltd; Osborne Bowens, dean of Technical Division of the SVGCC, and Raffique Browne, lecturer, Technical College SVGCC.