Posted on
Schools receive electronic devices from LIME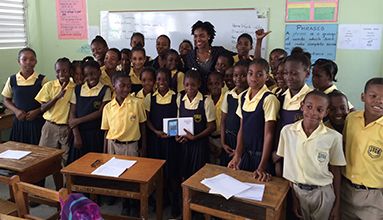 Two schools that received textbook covers from telecommunications company LIME a few weeks ago, were the recipients of electronic devices that would further assist in the educational development of students.{{more}}
Earlier this week, LIME Marketing assistant Veronique Williams handed over a Nexus 7 tablet to Shirlia John, grade six teacher at the Lodge Village Government School, after the students read essays pointing out the significance of, and thanking LIME for the book covers.
The class was presented with the tablet, which would enhance the learning process in the classroom, and, since the tablet can be used as a phone, John has entered the names and numbers of the parents into the device, so that getting information to and from them is right at her fingertips.
The Dorsetshire Hill Government School also received an extra gift from LIME: a brand new touch screen desktop computer, equipped with wireless mouse and keyboard.
During the handover of the textbook covers, the school made the request for the computer, which they indicated would assist the staff in their administrative work, which in turn would benefit the students.
Head teacher Olive Allen expressed her gratitude on behalf of the students and teachers for the gesture, saying that the gift of the computer would go a long way in the educational advancement of the students at her institution.