Posted on
Government interested in implementing ideas from I2 competition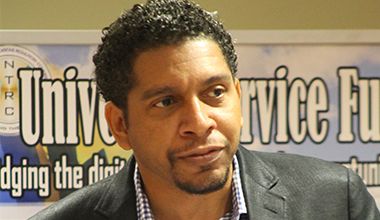 Ideas and applications that were presented during the Ideas and Innovations (I2) competition may be implemented in St Vincent and the Grenadines to improve various areas of the Public Service.{{more}}
The second grand finale and prize-giving ceremony of the I2 competition was held by the National Telecommunications and Regulatory Commission (NTRC) on January 15 at the National Insurance Services (NIS) conference room. The competition was geared towards generating ideas and mobile applications to improve the Public Service.
As he gave opening remarks at the all-day event, Camillo Gonsalves, Minister with responsibility for Information Technology revealed that the Government of St Vincent and the Grenadines is interested in implementing some of the ideas developed in the competition.
"We had a number of very exciting ideas," Gonsalves said, referring to the first ever competition in 2014.
He said those ideas and applications which have real merit in their potential to streamline and update and upgrade the Public Service will be implemented soon.
The Minister, who revealed that some ideas were being discussed at Cabinet level, told this year's participants that the competition is recognized in different parts of the world.
In the finale, 19 groups from 18 schools presented in either the Idea or Mobile Application category.
In the secondary division for the idea category, it was the Union Island Secondary School IT Group that emerged victorious.
Under the theme, "Catering for the needs of our students throughout primary and secondary school to function effectively as useful members of society," the group presented a website that can be used by parents and teachers to help students develop their reading skills.
The two-person group, Get Techd, from the St Vincent and the Grenadines Community College were the winners of the Idea category for the tertiary division.
They presented the idea of an online portal for persons to receive career guidance and notifications of job openings in their desired fields.
Both groups in the secondary and tertiary division in the Mobile Application category chose VINLEC as the subject of their project and presented an application that allowed users to track their energy consumption and pay bills online.
"We realized that the people of St Vincent, they are having a hard time with their electricity bill, so we wanted to tackle that issue and see if we could alleviate those problems," community college student of 'Double A Studio', Akeem Peters said.
'The Brisket' of the St Vincent Grammar School explained that their application comprised a number of sections: one section estimates the amount of money that an individual will pay, based on the number of units used, a billing area which will redirect one to the VINLEC website, where they can pay online and a tracker to identify how many units a household is using.
While judges commended all presentations at the event, several suggestions were made for future groups that wish to enter the competition.
"You have to identify which public service will be responsible for the application or idea you bring forward. Also financial analysis; there needs to be a cost breakdown. The Government still needs to know how much it's going to cost them," one judge said.
"Why are all the apps free? Do not rely on your mentors alone to provide you with information, because you are the one standing in front of the judges and they will ask questions. Go and speak to the department, to the users. Get information, so that you are on the ball."(BK)