Posted on
Browne was wrong, but unlikely to be disciplined – Gonsalves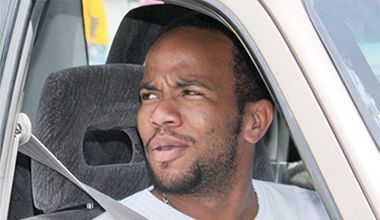 Senator Luke Browne was wrong to driven without a valid driver's license, but it is unlikely that he will be brought before any disciplinary committee of the Unity Labour Party (ULP) because of that matter.{{more}}
Prime Minister Dr Ralph Gonsalves, in an interview with SEARCHLIGHT Wednesday, said Browne should not have driven while he was disputing the period to which payment of his driver's license had been applied.
"It was wrong for him to have been driving between the fourth of October, 2014 and the fifth of January 2015 when he said to me that he was disputing this matter.
"…He was not licensed and he should not have been driving. Clearly, that is wrong," the Prime Minister said.
Gonsalves said from the standpoint of the Inland Revenue Department (IRD), Browne was also wrong to have driven in the four years prior to 2014.
"But I am saying in his own mind, he is saying, he was not aware prior to October 4 [2014], … and I am taking him at his word, that he was not aware before the fourth."
The Prime Minister related that Browne said he had paid the licence for five years, but the IRD applied it for the time he was at Cave Hill.
"The Inland Revenue Department (IRD) as I understand it, can give you a waiver if you can show on your passport, that you have been out for that entire period of time. But you cannot be going and coming and say because you were away for most of the time, you don't pay. No! If you were in the country for just one day, you must pay, because the IRD is not tracking you to see if you driving or not driving.
"I am very happy that he went and sorted the matter out and accepted the position of the licensing office. If he wants to subsequently query, then that's his business. He has paid up and everything."
Gonsalves, who is political leader of the ULP, however said although the central executive of the Party has not met to discuss the matter, his own instinct is that Browne will not be disciplined.
"… because of the circumstances under which that happened, clearly it was wrong, but it is not every wrong which is so egregious that the person must be pulled before a Party disclinary committee and disciplined. I don't expect this thing to happen again," he said.
On January 13, 2015, SEARCHLIGHT reported that it was only on January 5, 2015 that Browne paid his driving permit for the years 2011, 2012, 2013 and 2014. He explained to SEARCHLIGHT that when he returned from university in 2009, he paid his licence for five years, but the IRD applied the payment to the period from 2005 to 2009, something he did not have knowledge of until after his birthday on October 4, 2014.