Posted on
American University of St Vincent holds sixth White Coat Ceremony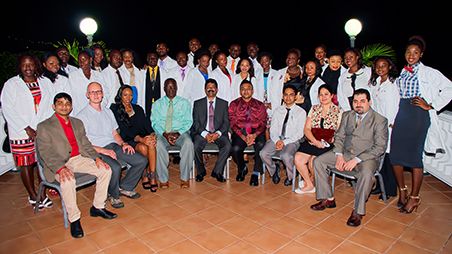 Twenty-six aspiring young doctors donned their first white coats at the American University of St Vincent's (AUS) 6th White Coat ceremony.{{more}}
The special event was held at the Grenadine House on Friday, January 16, 2015.The diverse bunch of students beamed with excitement and enthusiasm, at an occasion which often symbolizes a significant milestone in the lives of students.
Individuals from countries like Ghana, Nigeria, Grenada and Jamaica contributed to the cultural mosaic which is seen at AUS.
Dean of AUS Dr Dommalur Jayarangaiah, extended his greetings and welcomed these students to the institution and to the beautiful gem of the Antilles, St Vincent and the Grenadines (SVG). He reminded them of the hard work which was required to get to this stage in their academic career and encouraged all students to maintain that dedication throughout their time at AUS, so that their goals can be realized. Dr Jay urged these aspiring physicians to listen carefully to the words of the Hippocratic Oath and to make the pledge solemnly, as in the imminent future, the lives of many patients will be entrusted into their care.
Dr Shakel Henson, a senior lecturer at AUS, gave the feature address. She informed students that "medicine is not merely a science, but it is also an art," so there is a need for physicians to consider the social aspects of medicine when caring for and managing their patients. Dr Henson also emphasized that a great doctor is one who is willing and able to effectively and efficiently serve his/her patients. Additionally, she advised the medical students to remain committed to the field of medicine; to continually enhance their knowledge; and to always show patients that they genuinely care about them.
The event was witnessed by the faculty and staff of AUS, senior students, family members, friends and well-wishers. AUS' dean, Dr Dommalur Jayarangaiah, and the Campus Operations manager, Syam SL, were pleased with the evening's event and vowed that AUS' White Coat ceremonies in the future are likely to witness even more students entering its medical programme.
First established in 2012, the American University of St Vincent is a medical school which is located in New Montrose, St Vincent.
AUS is recognized and registered by the National Accreditation Board of St Vincent and the Grenadines.