Posted on
Ministry receiving outpouring of support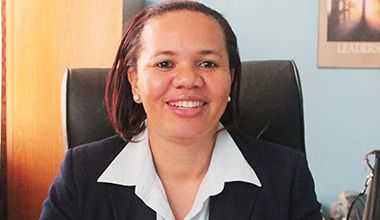 The Ministry of Health, Wellness, and the Environment says it is "heartened" by the outpouring of support which it has been receiving to assist Vincentians, as it strives to expand and modernize the national health sector.{{more}}
Following the recent tragedy in Owia on Monday, January 12, the Royal Bank of Trinidad and Tobago (RBTT), as part of its social responsibility, stepped forward to lend support.
According to hospital administrator Grace Walters: "We were contacted on Tuesday, January 13, 2015, by a representative of the RBTT, who conveyed the institution's sympathies to the clients and relatives of those involved in the tragedy of January 12, 2015. The bank offered some support to relatives of those who were hospitalized at the Milton Cato Memorial Hospital. This support was offered through the provision of breakfast for the relatives of those affected and hospitalized."
Walters says that on Friday, 16 January, 2015, staff of the RBTT served breakfast to eight relatives of patients who were involved in the tragedy of January 12, 2015, and who were still hospitalized at the MCMH.
"Meanwhile, persons and organizations throughout the Caribbean have been touched and are seeking ways to assist. Two psychologists, Rev Dr Marcus Lashley and Dr Mike Campbell of Barbados, are here to assist with counselling at the crisis centre which was set up in Owia. Additionally, Dr Claudius Davis, a Vincentian psychologist currently practising in New York, USA, arrived on Friday, January 16, to also lend his expertise," a release from the Ministry said.
The visits by Drs Lashley and Campbell are being facilitated by Emera Caribbean, an organization which is collaborating with the Government of St Vincent and the Grenadines to explore the potential for geothermal energy in St Vincent and the Grenadines.
Another organisation, the Mustique Charitable Trust, has also come on board to assist with food and transportation costs for family members. Two relatives of each of those hospitalized will receive transportation and lunch for a maximum of 10 days. Additionally, the next of kin of those who presented at the Accident and Emergency Department for necessary intervention on the day of the accident will be reimbursed lunch and transportation costs. Also, the next of kin who also presented themselves at the MCMH to identify the corpses will also be reimbursed monies spent for lunch and transportation.
Meanwhile, coming on board in another capacity is Coreas Hazells Inc, which has partnered with the Ministry of Health in the launch of the expansion of the Diabetic Care Programme on Wednesday, January 14, 2015.
The Government of St Vincent and the Grenadines and the Ministry of Health continue to forge meaningful partnerships in a bid to benefit the citizens of this nation.