Posted on
Make significant, lasting contributions to your profession, society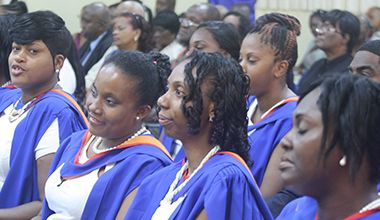 The 2015 graduates of the University of the West Indies (UWI) Open Campus have been told to remember that they have not completed their course of study just to fulfill their own aspirations, but to make significant and lasting contributions to their profession, society and the world.{{more}}
Deputy director of the National Insurance Services (NIS) Dr Mineva Glasgow asked the students to adopt this way of thinking, as she delivered the feature address at the Open Campus' 2015 Recognition of Graduates Ceremony, which was held on January 16, at the Methodist Church Hall in Kingstown.
Glasgow, who is herself a former student of the Open Campus and now an online tutor for the UWI, stressed that the institution has a long and noble tradition of providing quality education and a long line of distinguished alumni who have served society in many influential positions.
Her address, done under the theme, "Mastering your own destiny," told the graduands that they can influence, direct and control their environment.
She noted, "the world in which you live is complex and globalised, yet full of rich and exciting possibilities. I am confident that as UWI graduates, you will engage the world with commitment, passion, and humility."
She stressed that service to the wider community is a central and traditional element in the UWI's rich history.
Several of UWI's graduates have given and are giving service in the region and the wider world, according to Glasgow.
"…many of them have distinguished themselves in administration and research, medical sciences, politics, teaching and the works. We have outstanding alumni right here in St Vincent and the Grenadines whose life and work exemplify many key values," said Glasgow.
She added that dedication to service is significant because several persons who have modelled the way encountered several challenges and obstacles, but did not allow these problems to overwhelm them.
"Similarly, you would meet several hurdles on your journey. In spite of these vexing challenges and circumstances that may confront you, you can still give yeoman service," said Glasgow.
She opined that here, and in the wider Caribbean, people are resolute with the will to succeed.
"If we look around we will be able to identify persons and institutions that have succeeded in spite of the obstacles that lay in their path. They were able to overcome because they adopted a focused approach and had a vision of where they wanted to go. You too must have a vision. Not only a vision in your head. You must set clear objectives and goals and provide yourself with the resources to achieve them. The outcome may mean hope and better lives for those whom you serve."
She added also that the term "dedication to service" evokes a wide range of responses and while some may think it is a rather quaint notion, out of step with our times, "I feel that it is really quite the opposite. Dedication to service can be a powerful motivator that helps us to press on, despite the odds. This springs from the realisation that one's actions can have very positive consequences to the wider community beyond one's self," said Glasgow.
She asked that the graduands remember that their talent, creativity, and passion can be applied to the challenges of society, and help uplift and benefit those who are less advantaged.
"Dear graduands, there are always two possibilities in any one event, so be optimistic about life. Never take the path of least resistance or the road less travelled. One view point is not innately better than the other," said Glasgow.
The recognition ceremony saw persons gaining qualifications in areas like agribusiness management, film production and film studies, psychology, marketing and linguistics.