Posted on
NCW expresses condolences to families of accident victims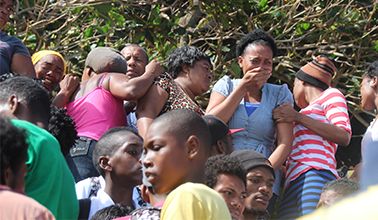 Fri, Jan 16, 2015
The National Council of Women would like to express sincere and deepest condolences to the families, loved ones and friends of the bereaved at this time.{{more}}
We are saddened for our loss. I said our loss, because these children had looked forward to great things in their future, they, too, would have set goals and proceeded to achieve; they were on their way to school, looking for a bright future through their hopes and dreams; their parents, teachers and mentors would have seen great potential in them.
But, life brings with it these unforeseen circumstances and situations. We look to Almighty God at this moment for his good graces. We remind you that God is with you, Jesus is your comforter, and you are not alone. The people of St Vincent and the Grenadines and the diaspora are praying for and with you. He (Jesus) heals the wounded hearted, binding up their wounds. Psalms 147:3
We thank almighty God for the victims who have survived this accident; we pray for their total healing and speedy recovery. We trust that all will find new strength and courage in Jesus. This is a grand opportune time to take stock of your life, see where you are with your spirituality. I admonish you, whatever religious belief you share, to draw nigh to God, and He will draw nigh to you.
Admonition to all:
Loss is a natural part of life and for the most part grief can be deep and coping with the loss of a close friend or family member may be one of the hardest challenges that may face us. We all have different reactions to death and possess personal coping mechanisms towards grief; some may take months or years; however, the sadness diminishes as time passes. Grieving is an important process in order to overcome these feelings and continue to embrace the time they had with their loved ones.
Please let us allow for their personal healing processes. We are asking persons, especially those who are not intimately affected, in this time of grief and sorrow to be very sensitive in your conversation; this is not a time to play the blame game, but to encourage each other to do good, to be pure in thoughts, courteous and compassionate to each other.
2 Thessalonians 2:16,17: May our Lord Jesus Christ Himself and God our Father, who has loved us and given us everlasting comfort and hope which we don't deserve, and comfort your hearts with all comfort, and help you in every good thing you say and do.
Beverly Richards, President – National Council of Women