Posted on
Catholic team visits Fancy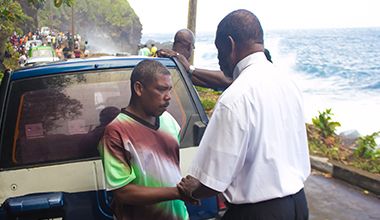 On Tuesday, January 13, Msgr Michael Stewart, accompanied by president of the SVG Human Rights Association Nicole Sylvester and another member of the church journeyed to Fancy.{{more}}
They met with Jemma Edwards, who shared with them that both her sons perished in the accident.
Mike briefly counselled the grieving mother and prayed with her, assuring her that God was in control and that she should trust in Him. They also met with the father of the minibus driver and Station Sgt Hezron Ballantyne, whose daughter, up until Wednesday, was unaccounted for.
The team visited the site of the accident and interacted with persons who were still gathered there, as the search was still ongoing for two missing girls.