Posted on
Cancer society collects FCIB 'Walk for the Cure' cheque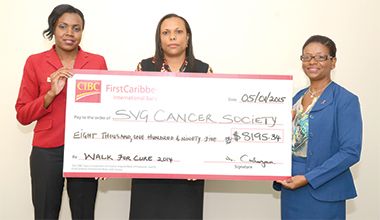 The St Vincent and the Grenadines Cancer Society now has just over eight thousand dollars more in its coffers, to aid in its all important work.{{more}}
The cheque for $8,195.34 represents the proceeds from FirstCaribbean International Bank's (FCIB) annual Walk for the Cure, which was held last October. Every year, CIBC FirstCaribbean businesses around the Caribbean take part in the event, along with their parent company, CIBC, now in its 18th year of supporting the Canadian Breast Cancer Foundation's Run for the Cure. Since 1992, CIBC employees and volunteers have raised more than $36 million for breast cancer research.
The Caribbean event raises funds for the care and support of persons fighting the disease across the Caribbean. Here in St Vincent and the Grenadines, CIBC FirstCaribbean staffers, along with their friends, family and other supporters, were on the road to Walk for the Cure on Saturday, October 4.
According to CIBC FirstCaribbean's chief executive officer Rik Parkhill: "As a responsible corporate citizen, we have always been at the forefront of providing assistance to the communities in which we operate. We have pledged to give annually to communities in the Caribbean, but for us it is about more than handing over a cheque. It is about becoming involved in our communities and responding wherever we can."
The cheque from the St Vincent Walk was recently handed over to the treasurer of the St Vincent and the Grenadines Cancer Society Sylvia Mapp, during a brief presentation ceremony at the Bank.