Posted on
Pitt wins WonderFlow Promotion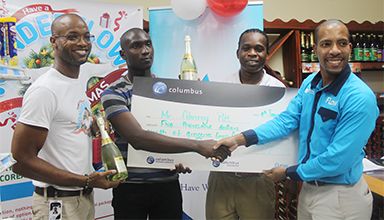 Glenroy Pitt was left speechless last week, after winning the grand prize of the WonderFlow Promotion, valued at $5,000.
The promotion, which was an initiative of Columbus Communications Inc and several other partners, ran for seven weeks in the Christmas season and saw a number of persons winning a series of prizes.
When Pitt received his cheque on Friday, which would entitle him to a $5,000 shopping spree at Coreas Hazells Inc, he expressed to everyone present how he felt about his good fortune.
"I just feel very elated to be in this position and thankful," he said, noting that the prize will go a long way in feeding his entire family.
Pitt also commended the service of Columbus Communications Inc, stating that it was "very good."
Country manager Christopher Gordon thanked customers for being a part of the WonderFlow Christmas promotion and promised "a whole host of exciting promotions" for 2015.