Posted on
NLA presents 'Christmas Payday' winners with prize money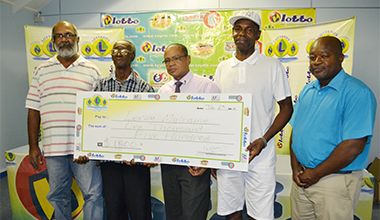 The National Lotteries Authority (NLA) recently presented the three winners of its 'Christmas Pay-day' promotion with their prize monies – all of whom are long-standing players of various games.{{more}}
Leroy 'Porks' Mulraine, Desmond 'DH1' Hillocks, and Ormond 'Beardman' Delplesche will each receive varying amounts of money each month over a 12-month period.
Mulraine, a Fernside resident, scooped the top prize and will receive $1,500 per month; Hillocks, from Paul's Avenue, took second prize and will receive $1,000 per month; and Gibson Corner resident Delplesche, third place winner, $500 monthly.
The three men were presented with their first monthly installments on Tuesday, January 6 at the NLA headquarters – congratulated on their wins by NLA manager McGregor Sealy and Product development Officer Anthony Dennie.
Mulraine, who said that he has been supporting the NLA's games since 1984, sang the company's praises – making mention of its contribution to sports, culture and various other fields that benefit Vincentians.
"I myself was surprised and elated when I received word that I was among the prizewinners," he recalled. "I have never been fortunate enough to win any substantial prizes; just a little 3D and scratchy now and again, but nothing to call home about!"
Hillocks said that he considers his win to be a blessing from God, and also pointed out that he has never won anything substantial since he began playing in 1984 – the year that the NLA was founded.
"I ain't just start – I'm an old soldier and it has paid off," he said elatedly.
Hillocks also encouraged more Vincentians to patronize the NLA's games, so that the company can continue helping the nation grow "from strength to strength."
Delplesche, who has also been a customer since the NLA's inception, said that he was pleased with his win, but added that he only regrets not having won the first prize.
"Once you have a ticket, you have a chance," he insisted.
Product development officer Anthony Dennie said that although this is the first promotion of this nature, the company has been running Christmas promotions for a number of years.
Manager McGregor Sealy congratulated all the winners, and said that they were examples of "persistence paying off."
Over the designated Christmas period, all players who purchased $6 and over worth of Super 6, Lotto or 3D tickets were given 'Christmas Payday' coupons. To enter the promotion, patrons simply had to submit said coupons along with $5 dollars worth of scratch tickets (non-winning) and their name, address and telephone number.
The draw was held on December 31, 2014.(JSV)