Posted on
NLA changes draw times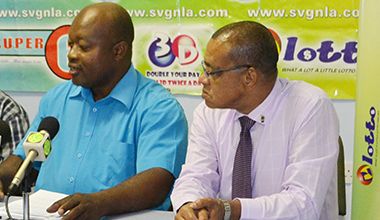 Vincentians will have to get used to a new schedule for their favourite National Lotteries Authority (NLA) games for 2015 and beyond.{{more}}
At a press conference held at the NLA headquarters on Tuesday, January 6, it was announced that draws will not only be conducted and aired at different times, but will also be produced and filmed at the VC3 studio at Victoria Park.
The 3D midday draw will now take place at 1 p.m. instead of 12:45 p.m., and will air at 1:45 p.m. on VC3 (Channel 112). It will then be repeated at 2 p.m. on SVG TV.
Product development officer Anthony Dennie said this new draw time will give patrons an extra 15 minutes within which they can purchase tickets.
Super 6 – which is drawn on Tuesdays and Fridays – will now be done at 7:45 p.m., and not 8 p.m. It will air at 8:55 p.m. on VC3, then be repeated at 9:15 p.m. on SVG TV.
"The 15 minute earlier time is to allow for us to fall in line with what happens in Grenada, St Lucia and Dominica, as Super 6 is a Windward Islands game," said Dennie. "We are just ensuring that we stay in line with the other three Windward Islands."
Manager McGregor Sealy issued an invitation for the general public to attend the draws at the VC3 studio.
"We are not running a secret club. The draw belongs to the public, and they can come at any time," he explained. "Just call and say which draw you want to witness, and we will accommodate you at any time and at any draw."
NLA also recently launched its newest four-digit game, Play 4, on December 1, 2014. It offers an identical structure to 3D, with players able to make in-line, mixed and back-up bets.(JSV)